Product Description
CHOHO Chain No.
P/mm
d1/mm
L/mm
b1/mm
    T/mm 
CA550
41.40
16.70
35.
Abbreviation: CHOHO Industry.
 

   √ HangZhou CHOHO Industrial Co., Ltd. was founded in 1999. Has become the leader of chain system technology, the first batch of natioal recognized enterprise technology center,national technology innovation demonstration enterprise,and the first A-share listed company in China's chain drive industry.The securities code is 003033.
   √ CHOHO has 4 subsidiaries, including testing technology and international trading companies. has 4 factories in HangZhou, Thailand factory, ZheJiang R&D Center and Tokyo R&D Center. In addition, CHOHO ZHangZhoug Industrial zone is expected to be completed & put into operation next year.
   √ We specialized in producing all kinds of standard chains and special chains, such as Agricultural Chain, Sprocket, Chain Harrow, Tillage Parts,Rice Harvester Chain, GS38 Chain, Roller Chain, Automobile Chain, Motorcycle Chain Industrial Chain and so on.Our  partners among world top enterprises, such as LOVOL,JOHN DEERE,NEWHOLLAND, CLASS,AGCO,DEUTZFAHR,HONDA, KUBOTA etc.

| | |
| --- | --- |
| Packaging Details: | advanced packaging / convenience package / bulk package / Waterproof bag / PE Bag / Premium cardboard box / Regular cardboard Carton / Neutral Box / Wooden case / Steel Pallets or Customization |

We are very close to the port of HangZhou, which saves a lot of logistics costs and transportation time!
 

We have our own logistics company and transportation department. If you need me to deliver goods to your warehouse or other ports in China, such as ZheJiang Port and ZheJiang Port, we can also do it!

*******************************************************
After years of quality practice, CHOHO has formed a unique quality culture and a quality management model that strategically achieves global chain system technology leaders in quality management.
*******************************************************
 
∞ Driven by quality culture and strategy
∞ Implementation of R&D,procurement, production and marketing
    Digital Quality Management of the Whole Value Chain Cycle
∞ Quality Synergy of the Whole Industry Chain
∞ Achievement chain system technology leader

    √ CHOHO has a natural brand awareness.  As of January 2571, CHOHO has registered the "CHOHO" trademark in more than 60 countries, including the United States, Japan, the United Kingdom, France, Germany, Russia, Spain, Austria, Belgium, Bulgaria, Croatia, Czech Republic, Denmark, Finland, Greece , Hungary, Ireland, Italy, Netherlands, Poland, Portugal, Romania, Ukraine, Sweden, Australia, Algeria, Egypt, Kenya, Morocco, South Korea, Kazakhstan, Mongolia, Syria, Thailand, Pakistan, India, Brazil, Mexico, Colombia, etc. 

CHOHO has been invited to participate in many international exhibitions around the world, including industrial exhibitions, agricultural exhibitions, motorcycle exhibitions, engine exhibitions, such as Hannover Messe, Bologna Fair, Canton Fair ,VIV ASIA and other world famous exhibitions!

COOPERATIVE CLIENT

Broad Customer Channels  Market Continues to Develop!

Choho Provide Chain System Solutions for The Global Top 500 and The Enterprises in Various Fields Top 10!

FAQ

1. Are you manufacturer or trade Company?
    We are a factory focused on producing and exporting Chain over 23 years,have a professional international trade team.
2. What terms of payment you usually use?
    T/T 30% deposit and 70% against document, L/C at sight
3. What is your lead time for your goods?
    Normally 30~45 days.Stock can be shipped immediately.
4. Do you attend any Show?
    We attend Hannover show in Germany, EIMA in Italy, CZPT in France, CIAME in China and many other Agricultural machinery shows.
5.Do you offer free samples?
   Yes,we can.or you just bear the shipping cost.
6.Is OEM available?
   Yes, OEM is available. We have professional designers to help you design.
 

Shipping Cost:

Estimated freight per unit.





To be negotiated

|


Freight Cost Calculator

| | |
| --- | --- |
| Material: | Alloy |
| Structure: | Roller Chain |
| Surface Treatment: | Polishing |

Samples:

US$ 1.99/Meter

1 Meter(Min.Order)

|

Order Sample

Customization:

Available

|

Customized Request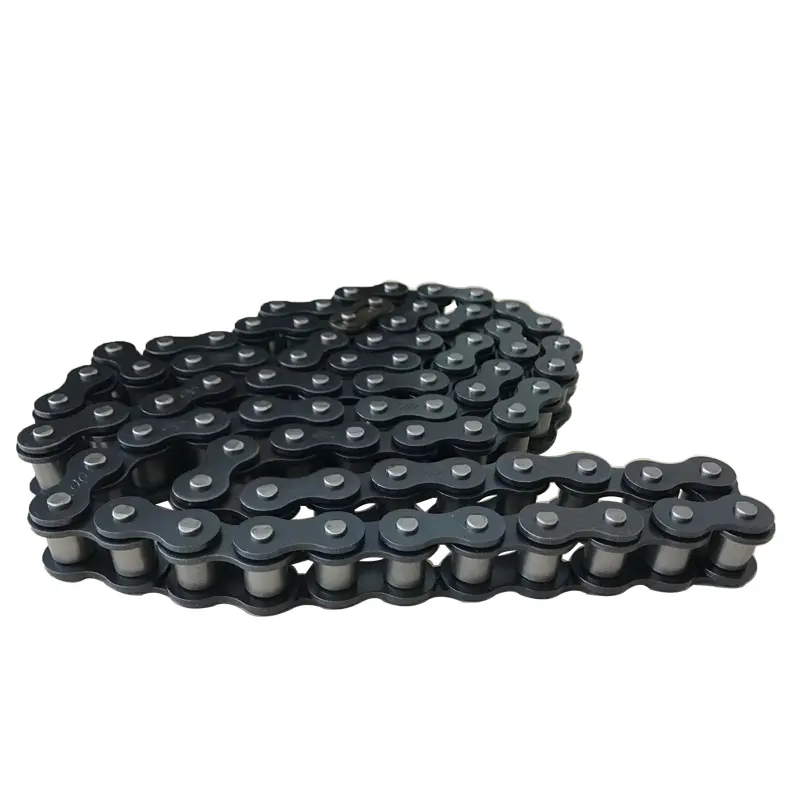 Are there any special considerations for installing roller chains?
Proper installation of roller chains is crucial to ensure their optimal performance and longevity. Here are some key considerations for installing roller chains:
1. Alignment: Ensure proper alignment of the sprockets to prevent side loading and premature wear. The sprockets should be aligned parallel to each other and positioned at the correct distance according to the chain's pitch.
2. Tension: Proper chain tension is essential for smooth operation and to prevent excessive wear. Follow the manufacturer's recommendations for the appropriate tension based on the specific chain type and application. It's important to achieve the correct tension without over-tightening, as excessive tension can lead to increased stress and accelerated wear.
3. Lubrication: Apply the appropriate lubricant to the roller chain during installation. Lubrication helps reduce friction, wear, and heat generation. Follow the manufacturer's recommendations for the type and frequency of lubrication based on the operating conditions and chain design. Ensure even distribution of lubricant along the chain's length.
4. Sprocket Teeth Engagement: Check that the chain properly engages with the teeth of the sprockets. The chain should fit snugly into the sprocket teeth without excessive clearance or interference. Incorrect engagement can cause slippage, uneven wear, and premature failure.
5. Chain Length: Ensure that the chain length is appropriate for the application. Avoid excessive slack or excessive tension by adjusting the chain length accordingly. An incorrectly sized chain can lead to poor performance, increased wear, and potential damage to the chain and sprockets.
6. Protection: Consider using chain guards or covers to protect the roller chain from external contaminants such as dust, dirt, or debris. This helps minimize wear and extends the chain's lifespan, particularly in harsh or dirty environments.
7. Regular Inspection: Regularly inspect the roller chain and sprockets for signs of wear, damage, or misalignment. Monitor the chain's performance and address any issues promptly to avoid further damage and prevent unexpected downtime.
8. Proper Tools and Techniques: Use appropriate tools and techniques during installation to ensure accuracy and prevent damage to the chain or components. Follow the manufacturer's guidelines or consult with experts for specific installation instructions.
By following these considerations and best practices, you can ensure proper installation of roller chains and maximize their performance and durability in your application.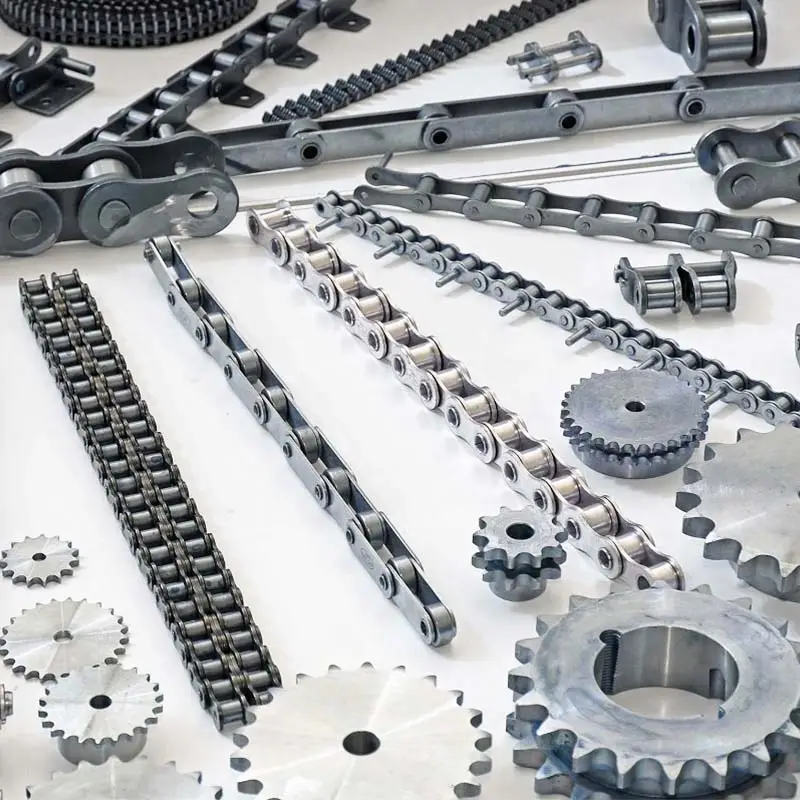 What are the benefits of using a roller chain in material handling systems?
Roller chains offer several benefits when used in material handling systems. Here's a detailed answer to the question:
1. High Load Capacity: Roller chains are designed to handle heavy loads. They have the strength and durability to support the weight of materials being transported in material handling systems. The multiple contact points provided by the rollers distribute the load evenly, reducing stress concentrations and ensuring efficient load carrying.
2. Reliable Power Transmission: Roller chains provide reliable power transmission in material handling systems. They efficiently transfer power from the motor to the moving components, such as conveyors, lifts, and sorting systems. The precision engineering of roller chains ensures smooth and consistent power transfer, minimizing slippage and maximizing operational efficiency.
3. Flexibility and Versatility: Roller chains are available in various sizes, pitches, and configurations, offering flexibility in design and application. They can be easily adapted to different material handling system layouts and requirements. Roller chains can accommodate both horizontal and vertical movements, making them suitable for a wide range of material handling applications.
4. Durability and Longevity: Roller chains are known for their durability and resistance to wear. They are designed to withstand the demanding operating conditions typically encountered in material handling systems, such as high speeds, heavy loads, and exposure to dust, debris, and contaminants. Proper lubrication and maintenance can further enhance their longevity and reliability.
5. Easy Maintenance: Roller chains are relatively easy to maintain. Regular lubrication and periodic inspection can help ensure smooth operation and detect any signs of wear or damage. Chain tension can be easily adjusted to maintain optimal performance. In the event of chain wear or failure, individual chain links can be replaced, minimizing downtime and maintenance costs.
6. Cost-Effective Solution: Roller chains offer a cost-effective solution for power transmission in material handling systems. They are generally more affordable compared to alternative systems such as belts or gears. Additionally, their durability and longevity reduce the need for frequent replacements, resulting in cost savings over the system's lifespan.
When selecting a roller chain for a material handling system, factors such as load capacity, speed, environmental conditions, and specific application requirements should be considered. Regular maintenance and inspection are essential to ensure optimal performance and to identify any potential issues that may require attention.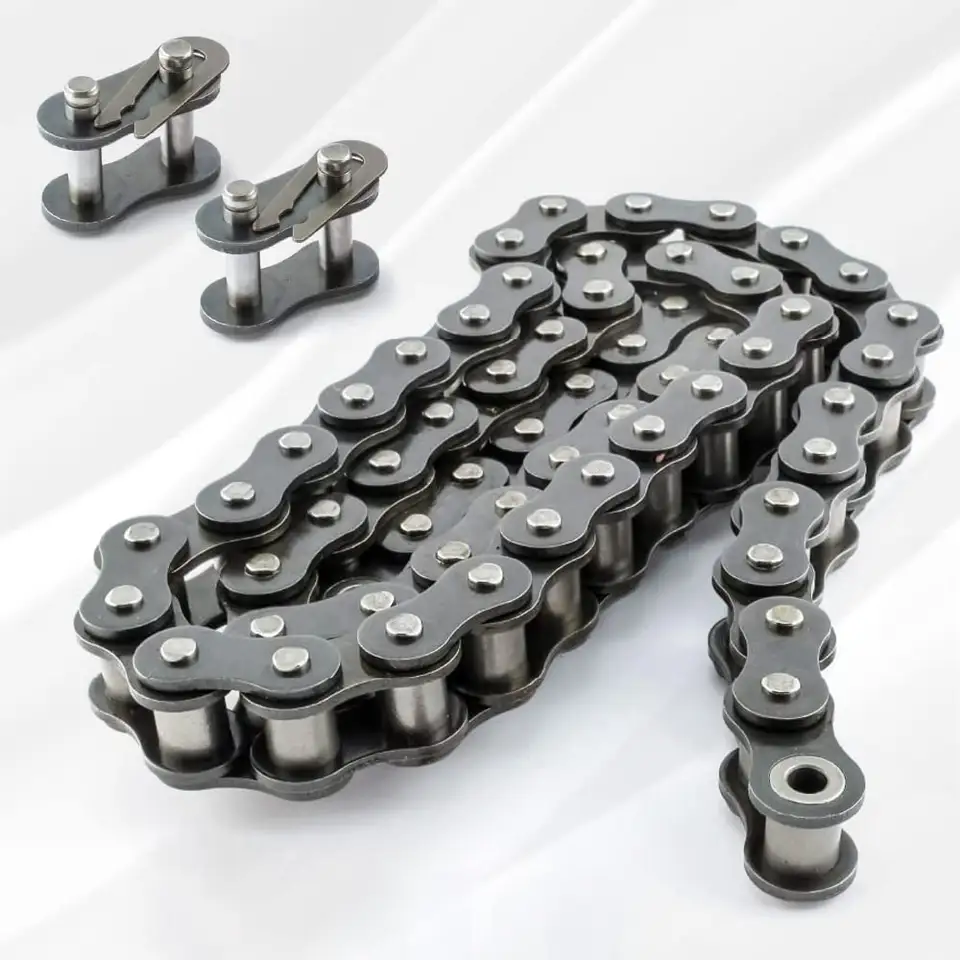 How do you measure roller chain wear?
Measuring roller chain wear is important to determine if the chain is still within acceptable tolerances or if it needs to be replaced. Here are the steps to measure roller chain wear:
1. Chain Elongation Measurement: Chain elongation is a common form of wear in roller chains. To measure chain elongation, you'll need a ruler or caliper with metric units and a reference length of the chain. The reference length is typically a certain number of pitches, which is the distance from one roller to the next.
2. Select Reference Points: Choose two reference points on the chain, ideally at least 10 pitches apart. These points should be accessible and free from any significant wear or damage.
3. Measure the Distance: With the chain in a relaxed state, measure the distance between the reference points. This can be done by aligning the ruler or caliper with the rollers of the chain. Ensure the measurement is taken along the same side of the chain throughout the process.
4. Compare with the Manufacturer's Specification: Consult the manufacturer's specification or maintenance manual to determine the allowable elongation limit. Typically, roller chains have a maximum allowable elongation of around 1-2% before replacement is recommended.
5. Calculate Elongation Percentage: Calculate the elongation percentage by comparing the measured distance with the reference length. Subtract the reference length from the measured distance, divide the result by the reference length, and multiply by 100 to get the elongation percentage.
6. Determine Chain Condition: If the elongation percentage exceeds the manufacturer's recommended limit, it indicates significant wear and elongation of the chain. In such cases, it is advisable to replace the chain to prevent potential failure and damage to the machinery.
It's important to note that measuring chain wear is just one aspect of assessing chain condition. Visual inspection for signs of wear, such as pin wear, plate wear, or roller wear, is also crucial. If you notice any signs of damage or wear during the inspection, it is recommended to replace the chain, regardless of the elongation measurement.



editor by CX 2023-07-21